Come down from the mountain… the work is in the valleys

"Then Peter answered and said to Jesus, "Rabbi, it is good for us to be here; and let us make three tabernacles: one for You, one for Moses, and one for Elijah" (Mark 9:5)

Peter had just experienced the most wonderful, powerful event in his life. He had been caught up in the glory, taken to the summit of the mount with his master, the Lord Jesus. The sights of his surroundings and the constant murmur of men had overshadowed his world with a sense of glory that he had never known before. For a moment, for a brief moment, he had lost himself and wanted nothing more than to forget everything and everybody that he had ever known and stay on that mountain top forever. The temporal things of the world had become his enemy and he no longer wanted anything to do with them. He wanted to rise above them in rapture, stand on the summit in victory, and set up an eternal tabernacle on that mountain top.

How many times have you wished for the same?

How many sweet times of fellowship with my Lord have you longed to have last forever?

How many times have you been content to sit on the mountain top… marveling at the beauty of His handiwork… content to listen to the gentle whispers moving from peak to peak… through the rocky crevasses… singing their high mountain song in the clear, cool, frosty air?

When you reclined at His table and took the cup and the bread in your hand in remembrance of Him, or during the nights that you spent at the altar in prayer…
How often did you wish to set up a tabernacle in that place?

But, too soon you heard the stirring of people, the hushed voices of those around you… soon, the doors open and people gather as life shows up again.

Have you often mourned over having to leave that special place too soon.

Exclaiming… "Why do I have to go back? Why can't I just stay here? This is a good thing. This is a special place. I don't want to leave! Why must I always leave the quiet place to return to the roar of the battle? Why won't my Lord allow me to do what Peter asked and make for Him a tabernacle here?"

But know this… The answer we receive is the one given to Peter – "Get up and go! This is not your rest."

For, you see… men were not made to remain on the mountain.

We were made for the valley.

The place that is best suited for the soul of man is not the mountain of glory, but the valley of ministry.

Listen as you descend….
Listen to the voices at the foot of the mountain… the voices of the multitude who need to be delivered.

Hear their cries as they come up the cliffs from the valley of their humiliation…

Now, hear His clear voice speaking to you…
"Do you believe that you are too good to enter into the tents of suffering of these?"
"Do you believe that you are above being able to help to those bound up by sin?"

Heed His voice… His counsel… His gentle push… Do not fear… Do not dwell in such thoughts, for He will be with you…

Now, as you begin your descent… The veil of the mountain is parted for you… Yes, it is drawn away for your good.

Descend now… down the mountain…

There is much He has planned for you.
Hear His Words clearly…
"Go forth… Build your tabernacle where many need to hear the Good News."

Draw close… He is with you… go!
---
A Foggy Morning Blessing

"Blessed is he whose transgressions are forgiven, whose sins are covered. Blessed is the man whose sin the Lord does not count against him." (Psalm 32:1 & 2)

The other morning, I awoke early and went into mountains. As I arrived in the Moraine Meadows I was greeted by our Lord with a damp fog that enveloped me completely.

The nearby mountain tops, some climbing to 14,000 ft, were barely visible as the early morning light began to illuminate the eastern sky.

Deep in the meadow I could hear the elk awakening calls… but their shapes were hidden by the fog.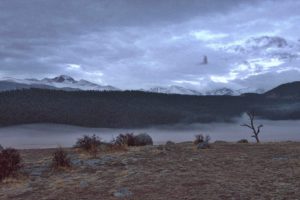 As I paused, I thought it a bit strange because lately I had been praying for God would allow me to see deep into the things around me…

For Him to give me an ability to more clearly describe what He sees and allows me to see on a different level…

For Him to give me His insights into what is seen and unseen.

So… I wondered…

Why the fog?

And now, as I walked forth (camera in hand)…

I sensed… this was different that times before when I have stepped into fog…

For, this morning I saw things I've never noticed before.

I remember the nudging of the Holy Spirit…

I remember His quiet voice…"There's some things to learn in this fog".

So… I ventured on, cinching my jacket to block the frigid air of the high mountains.

As I meandered into the meadow, frosty grass crackled like panes of glass beneath my feet.

I pursed my lips and exhaled a stream of warm air.

Steam formed and it swirled gently, never dissipating rather clinging to the mist that surrounded me.

Then, I sensed the hand of the foggy haze reaching out… taking me in its grasp leaving a dampness that chilled my arms.

The fog pushed in and out as though it were waves breaking gently onto an imaginary sandy mountain shore.

My vision began to clear as I squinted in the early grey light with growing shades of pick, red and canary… trying to find just a bit of sight through the foamy whitewash.

I gingerly blew a second breath into the wetness of the air.

Again the cloud twisted and turned, lifting itself into the vapor that washed past me.

The cool moisture chilled my lungs as I took it in.

Lifting my hand, I softly swatted at the smoky cloud and it moved, caressing my hand like sand filling crevices… constant and conforming.

This blanket that covered the early morning hours pressed against me, wrapping me tight in its clutch.

This is early winter in the mountains.

Looking over my shoulder I could see the pinhole of light growing in the darkness, forming a single ray of light.

Yes… daylight comes.

With each fleeting second that passed I watched the curtain rise and with it, the dense ocean of fog.

The amber glow of the morning light became increasingly bright as the mist cleared and my skin lost its tackiness.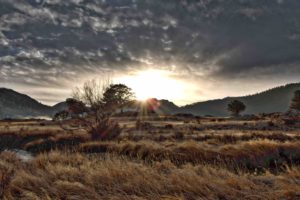 Soon….

God began taking the blanket of fog…

Moving it in smaller portions into the deep valley…

Then blowing it slowly up the tall mountains…

And folding it neatly to be stored in the heavens.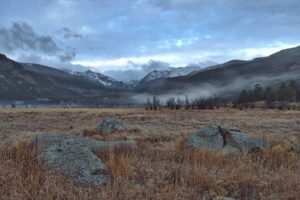 And…

As I watched and listened to the birth of a new morning I saw with different eyes…

Standing in newfound amazement… I saw clearly again… the tremendous cloak of forgiveness which the Father offers me… offers each of us.

This deep feeling of abiding within the arms of a God who can cover me fully, forget the wrongs I've done, and yet warm me completely, brought me to a new level of humility I've never known.

So…

As my request was granted…

"There's a lot more to fog than being blinded isn't there?" I asked the Father.

And…

I remember His voice dee in my heart…
"Indeed. Took you awhile to notice."
"I guess was only looking at the surface."

I felt a warm breath that pushed away the chill of the morning air.

"There's so much more to see when you look deeper – squint a bit. Fog is really not just something to inconvenience you when you drive."
I smiled. "I get that now. It's a cover. A quilt of sorts."
"Yes… What else did you see?"
"I saw the movement in the mist. It carried your forgiveness toward me and it washed my fallacies out of sight. It clung to me, touched me physically, tickled my skin."
"So you saw something in a different light?" The Father asked.
"Yes I did. I could see the thick film before my eyes, yet, my vision was perfectly clear."

"Good. You understand my love a bit better. If only more people would stand still long enough to look into the fog."

This morning was an exceptional Blessing…

God taught me that winter in the high mountain meadows offers sight to the blind.

He covers us with His mighty love and forgives completely.

I saw that… deep within the cold foggy mist of the Rockies.

I pray that each who read this will share in this Blessing…

And know…

He is ever so near…

Draw close… unto Him.
---
Here we are approaching Easter on March 27th. It's hard to believe that almost ¼ of this year has nearly past; most of the time we celebrate Easter in April. History shows us the most frequent date is April 16th. The time and dates are not nearly as important as the event.

The title

I AM has been going through my mind a lot lately. I was going to put it off for another time and focus more on Easter until I thought what Jesus experienced just prior to the crucifixion and how He nearly died for speaking those two words. Let's see why the statement I AM

stirred up so much anger in the ones that heard it that day.

Before we zero in on Jesus's words, we need to see if

I AM appears in other places of the Bible prior to Jesus being on earth and what the significance of those words were then. Some of my friends read the Old Testament, but not the New and some read the New Testament and not the Old. Could it be that each side is missing something? Today we are going to see if I AM

appears in both, if so are they referring to the same person?  By gaining some clarity, perhaps we can get a bigger picture and begin to see the total revelation of the Bible.

Since none of us can predict future events, no one living then, or now, can see what might happen ahead of time. Like looking through the lens of an old camera, it is fuzzy at best. New cameras today give us much more detail. It has been said, the Old Testament concealed is the New Testament revealed. By comparing the two we have a better chance of understanding it all.

In

Exodus, the second book of the Old Testament, we can enter into a conversation that took place between God and Moses. In chapter 3:13-15, Moses was questioning God what to tell the Israelites about His name.  In verse 14, "God said to Moses, I AM WHO I AM". and He said, "Thus you shall say to the children of Israel, I AM has sent me to you." In the New Testament the book of John 18:5-8 when Jesus asked who they were seeking, in order to arrest Him, He said, "I am He"

. They then drew back and fell to the ground. If someone would ask us who we are, although we could say 'I am he,' no one would fall to the ground. You might think those three words are not a valid conclusion. Keep in mind we have just gotten our camera out of the box and are adjusting our lenses. Let's see if we can gain a better focus as we proceed.

In

Psalms 78:23-25, "God opened the doors of heaven, and rained down manna on them to eat, and given them the bread of heaven. Men ate angels' food; He sent them food to the full." The feeding of the 5,000 was written about in John 6:1-14.  In verse 35,"Jesus said to them, I am the bread of life".

Psalms 95:7, "For He is our God, and we are the people of His pasture, and the sheep of His hand.  Today if you hear His voice".  John 10:11, "I am the good shepherd. The good shepherd gives His life for the sheep."

Deuteronomy 32:39a, "Now see that I, even I, am He, and there is no God besides Me". Isaiah 48:12b, "I am He, I am the First, I am also the Last". Revelation 22:13, Jesus said, "I am the Alpha and the Omega, the Beginning and the End, the First and the Last'. So if these verses are correct and Deuteronomy says there is no God besides me, referring to Jehovah in the Old Testament, and Jesus in Revelation 22:13 which says, "I am the First and the Last;" we have to conclude that Jehovah in the OT and Jesus in the NT are both one in the same. Jesus also made this statement in John 10:30, "I and my Father are one".

In

John 4:23-26, Jesus is speaking to a woman at a well, He tells her, "But the hour is coming, and now is, when the true worshipers will worship the Father in spirit and truth; for the Father is seeking such to worship Him. God is Spirit, and those who worship Him must worship in spirit and truth. The woman said to Him, "I know that Messiah is coming" (who is called Christ). When He comes, He will tell us all things". Jesus said to her, "I who speak to you am He".

So Jesus told her plainly He is the Messiah.

I Timothy 2:5, 6, "For there is one God and one Mediator between God and men, the Man Christ Jesus, who gave Himself a ransom for all".

Ransom is a payment to redeem a prisoner, or slave. In Christianity it is redemption from sin and its consequences. We don't think of ourselves as prisoners, but the truth is we are all prisoners or slaves to sin. We were born in sin and can't redeem ourselves. So it is necessary for Jesus Christ to take our place by dying on the cross to save us from our sin. By placing our trust in what He has already done, we through faith, will receive eternal life and live with Him for all eternity. This is what the purpose and essence of Easter is all about. The focus is to be totally on Him, to praise Him and thank Him for laying down His life to redeem us and then demonstrating that power through His resurrection.

In the second paragraph I mentioned that Jesus used the words

I AM and almost died for saying it, so let's discover why. The passage is found in the book of John chapter 8, let's begin in verse 37, "I know that you are Abraham's descendants, but you seek to kill Me, because My word has no place in you. I speak what I have seen with My Father, and you do what you have seen with your father". They answered and said to Him, "Abraham is our father."

Let's skip down to verse

54-56 of John chapter 8, "Jesus answered, if I honor Myself, My honor is nothing. It is My Father who honors Me, of whom you say that He is your God. Yet you have not known Him, but I know Him. And if I say, I do not know Him, I shall be a liar like you; but I do know Him and keep His word. Your father Abraham rejoiced to see My day and he saw it and was glad."

Verses 57-59, "Then the Jews said to Him, you are not fifty years old and have you seen Abraham?"  Jesus said to them, "Most assuredly, I say to you, before Abraham was, I AM.  Then they took stones to throw at Him, but Jesus hid Himself and went out of the temple, going through the midst of them, and so passed by".

When exposed to the truth, they didn't want to hear it. First of all they didn't want to believe Jesus was their Messiah. They certainly couldn't believe He was God. They discounted the fact that He could have known Abraham because He wasn't 50 years old yet and Abraham died some years before. We know Jesus knew Abraham because He knows all things. He was since the beginning of time. He was in the flesh for this period of time to demonstrate who He was through many miraculous miracles and soon to be His upcoming death, burial and resurrection.

God can only reach down to us; we lack the power and will to reach up to Him. For some reason we believe we must do something ourselves to receive eternal life. Yes, many are zealous to do things they believe will please God, but He knows our hearts and our sin places a barrier that can only be penetrated by His forgiveness of our sins. We can only receive that through our faith and trust in Him. It's at that point He welcomes us into the family of God and that sin barrier is broken.

Rather than looking for a Messiah who would set them free from their sin, they were looking for a Messiah that would free them from the oppression of the Roman Empire. He didn't present Himself as a King or Commander who could carry that out. Unless Jesus Christ is your Savior first, He cannot be your King. Jesus came first to die for the sins of the world which includes you and me. For those who have accepted Him as their Savior, He will return and become their King and they will be with Him for all eternity. I look forward to that day and you can too.

Pride and thinking you can somehow contribute to your own salvation are what keeps many people from trusting in Christ. So when He said before Abraham was

I AM, knowing the I AM'

s that they heard from their fathers, they rejected who He was. Had they been open to some truth, I'm sure He would have shared more with them, but their hearts were hardened. Until we are willing to get ourselves out of the way, we won't be open to His way.

There are other

I AM's I could have brought up from the Bible. Probably the most direct one and yet very controversial is found in John 14:6, "Jesus said, "I am the way, the truth, and the life, no one comes to the Father except through Me".

For a long time I had difficulty sharing why He said that; especially to my friends who elected a different belief system. Today it's not that difficult because I understand why He said what He did.

Although Christ died to take away our sin and save us from our self, God the Father is Holy and Just and cannot accept anything less than a perfect sacrifice for our sin. The only one who lived a perfect life is Jesus Christ. He met all the demands of the Father so He is the only one able to forgive and take away our sin. If he died and was buried like any other person, we would still be in our sin. His resurrection from the grave is what gives us the hope of forgiveness. The resurrection not only demonstrates His power, but authority since He was the one that created life in the first place.

So we are made righteous through His shed blood on the cross. Even though we deserved to be there instead, He took our place and suffered and died for us. That is the real meaning of Easter. We would love to have you worship with us this coming Easter as we celebrate Christ's resurrection. If you have questions about any of what was written or you want to know how you can have the assurance of going to heaven, come by and we will be glad to help you with that.
---